Now that your Christmas shopping is "hopefully" finished, it's time to turn your attention to the holiday feast.  As you plan your perfect meal, don't forget about the wine! The right wine and food pairings can turn your meal from good to great! Since there are so many traditions this time of year, I chose some of my favorite holiday meals and provided some great Christmas pairings in my holiday wine guide that will please even the pickiest palate at your dinner table.
BEEF & LAMB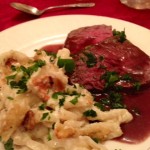 Beef tenderloin with a Bordeaux reduction served with a side of lobster mac and Maytag blue cheese is a stable in our house for Christmas dinner. It's the best surf and turf you will ever eat! Since tenderloin is a leaner cut of beef, you want to choose a wine with  moderate tannins. A wine too tannic will overwhelm the palate. However, the creaminess and higher fat content in the mac and cheese will give you a little more flexibility.  A left bank Bordeaux would be an awesome choice to play off the flavor notes in the reduction.  A Napa Valley Cabernet Sauvignon with a little bit of age is also a perfect dancing partner for this dish (tannins mellow with age).  Some of my favorite California Cabs with this dish include Jordan, Cade, Pride Mountain and Stag's Leap Artemis.  Other red options include a Syrah, Chateuneuf du Pape or even a well balanced Zinfandel like Grgich Hills, Rafanelli or Robert Biale's Black Chicken out of California.  The Zin works particularly well if you do a pepper crust on the tenderloin. The Cab is amazing with an herb crusted tenderloin.
Short Ribs – Braised short ribs with porcini risotto is another great holiday meal. Nothing says warm, cozy and satisfying like this dish. You want a hearty wine to stand up to this meal. Consider keeping with tradition and choose an Italian red like a Barbaresco, Brunello, or Chianto Classico Riserva. The high acidity and high tannic structure in these wines provide the perfect counterpoint to the weightiness of this fabulous meal. Antinori, Banfi and Pio Cesare are all excellent producers of Italian wines.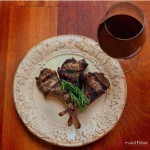 Lamb chops or leg of lamb marinated with fresh herbs (rosemary  & thyme) and garlic is also an elegant option for Christmas dinner.  I like an earthy meaty wine like a Syrah or Cotes du Rhone from the Rhone Valley of France with lamb. You can also opt for a Barbaresco from Piedmont, Italy or you can't go wrong with a classic Cabernet from Napa. Since lamb is a leaner cut of meet, look for a wine with a little age on it for mellower tannins.
If you're preparing venison for dinner, a Chateauneuf du Pape or Red Burgundy (Pinot Noir) is an excellent choice, especially if there is a mushroom component in the dish.
PORK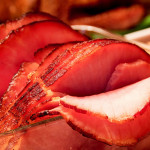 Holiday Ham – When it comes to ham, there are a few options that make outstanding pairings. For white options, choose an off-dry Riesling or a Gewürztraminer. These options work particularly well with a maple glazed or honey ham. These varietals offer the perfect foil for the salty ham. The saltiness brings out the fruit notes in the wine and the vibrant acidity found in these two varietals is the perfect palate cleanser.  Adding a pinch of clove to the maple glaze will bring out some of the sweet spice notes in the Gewürztraminer. If you prefer red, Cabernet Franc and Pinot Noir are excellent choices.  The red fruit notes of both varietals play well off the sweet notes of the maple glaze. The Trimbach Gewürztraminer is a great choice and easy to find.  The Dr. Loosen "Blue Slate" Riesling  or the "Dr. L" out of Germany is a great value friendly selection. If your looking for something a little more elegant look for a Grand Cru Alsatian Riesling. When it comes to Cab Franc, Virginia is offering some great selections from Barboursville, Fabbioli and Chatham Vineyards or try a "Chinon" from the Loire Valley of France.
Pork Roulade with Mushroom Stuffing is magic when paired with a great Burgundy or Pinot Noir from the Willamette Valley or Russian River Valley. Pork tenderloin is a leaner cut of meat and does not require a wine with rugged tannins. The mushroom stuffing will work in concert with the earthy notes of the Pinot Noir.
POULTRY 
Roast Turkey – Are you going traditional this year and sticking with turkey? I have some great recommendations under $30 in my Thanksgiving wine guide that are sure to please any palate.
SEAFOOD
Feast of Seven Fishes – This classic Italian Christmas feast usually features a tomato based seafood stew like a Cioppino pairs beautifully with a Soave, Pecorino or Pinot Grigio for white options. Craving a red? Serve a slightly chilled Pinot Noir or Beaujolais.
Bouillabaisse/Bourride – These classic French seafood stews make a great addition to your Christmas eve or Christmas dinner table and pair perfectly with a mineral driven wine from the Loire Valley like a Sancerre or Muscadet or try a Chablis or other unoaked Chardonnay.
If your preparing something outside the box and want a personal recommendation, I invite you to send me a message on Facebook and I would be happy to help you create the perfect pairing for your feast!
So now that your shopping is done, presents are wrapped and your menu is planned, kick back with a great glass of vino. You deserve it!
Love this content? For more sips & tips, subscribe to my digital wine channel at www.crystalpalate.com. Gift certificates for our annual membership are 20% through Christmas Eve. Wishing you all a happy holiday season filled with love, laughter & great wine!
Cheers,
Crystal